Winter nature adventure and wellbeing
Come to discover authentic and sustainable Finland in Piispala's rural nature! Try winter activities, explore the majestic winter forest while riding a fatbike and experience the well being effects that the Finnish nature offers. And are you ready to survive the enchanting winter? Take your time and slow down with us. Piispala will offer you once-in-a-lifetime winter experience right in the heart of Finland.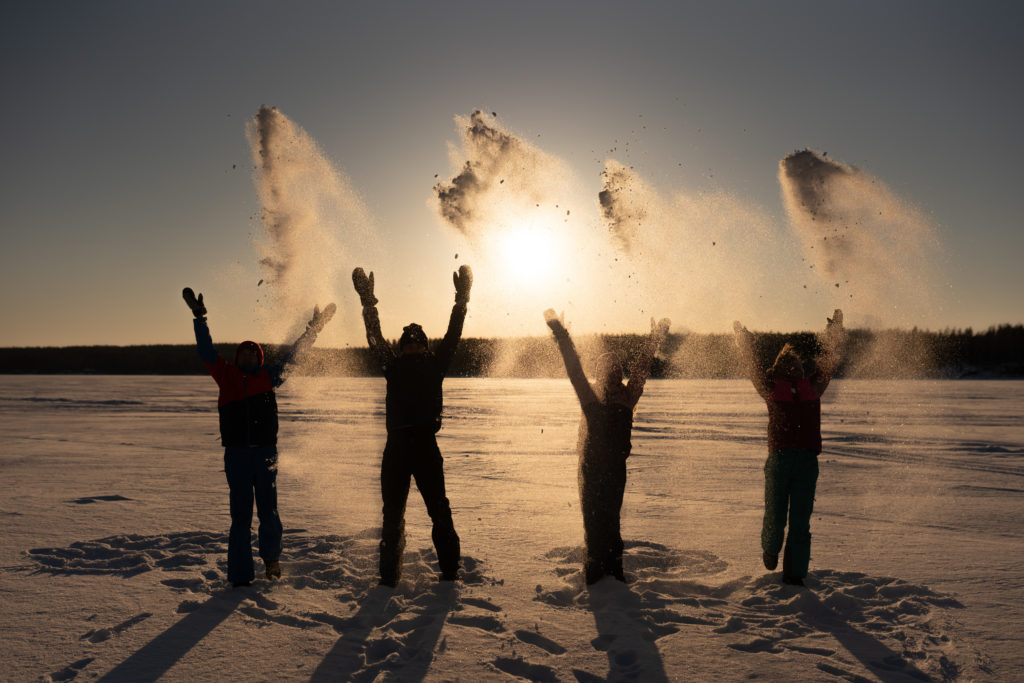 Price: 522€/person
Price includes:
3-night accommodation in cozy rooms for 1-2 persons
Full board including breakfast, lunch and dinner (one special dinner in Laplander's Hut), afternoon snacks on Day 2 and Day 3

Instructed winter activities: snowshoeing, fatbike riding, skiing or curling, Animal Home, forest mental wellbeing, ice fishing, survival skills
Herbal-sauna experience
Evening walking on a candle path
Use of sports facilities, e.g. gym, swimming pool, bowling alley
Group size: 8 – 30 persons
Duration: 4 days / 3 nights
Availability: December – March
Languages: Finnish, English, Swedish, Chinese
Clothing: Suitable winter clothing and footwear for outdoor activities in nature
Notice: Piispala reserves the rights of program adjustment in accordance with site and weather conditions.
Schedule example:
DAY 1  Welcome to Piispala
Site tour. If you arrive earlier on the day, we have activities for you to choose.
18:00 Welcome dinner in Laplander's Hut by the Lake Kivijärvi, Blazed Salmon as the main dish, with local ingredients, traditional rich vegetables and our own bakery bread.
DAY 2  Finnish winter sports
08:00 Breakfast
09:00 Forest adventure with snowshoes: fun and traditional Finnish way to move in snowy nature and enjoy the winter magic.
11:30 Lunch
13:00 Introduction to fatbike riding: fatbike is easy to ride on the snowy trails because of its fat tires. Coffee/tea/juice and snacks after fatbiking.
15:00 Experience traditional cross-country skiing or ice sports curling
17:00 Dinner
19:00 Traditional smoke sauna experience and herbal treatment, challenge ice swimming, snacks and hot drinks
DAY 3  Rural nature wellbeing
08:00 Breakfast
09:00 Animal Home: interact with our small animals such as gentle guinea pigs, chinchillas and funny-looking silkie chickens. You can also try with the goat agility training and take the pony for a walk in the forest. This Green Care activity will help you reflect on life values and a sustainable lifestyle.
11:30 Lunch
13:00 Mental wellbeing exercise in forest: mindfulness training in the forest, feeling yourself and the impact of nature's wellbeing. Coffee/tea/juice and snacks after the exercise.
15:00 Ice fishing: learn how to move safely on the ice and how to ice fish. The purpose is not just to get some fish, but more about the quality time to enjoy the nature, peace, silence and time with friends in Finnish way.
16:30 Swimming and sauna at the Spa, or bowling
18:00 Dinner
19:00 Let's take an evening walk in the atmospheric candle path, feeling the majestic nature in the darkness.
DAY 4  Wilderness survival
08:00 Breakfast
09:00 Learn survival skills in nature, making a campfire, brewing coffee on the campfire, trying to make water from snow and preparing food, etc.
13:00 Goodbye and see you again