Tracing a better life
We are a holistic wellbeing centre.
Various sports facilities
The diversity of Piispala's sports facilities enables exercises with a wide range of possibilities. We provide an excellent training setting for clubs and teams of ice, swimming and field sports. You can book from us your own turns to use the sports facilities, organize a tournament weekend, for example for ten teams, or anything else in between.
Overnight customers and day visitors can book time to use sports facilities by contacting our Reception or Sales. Those customers accommodating at us can use basic facilities such as sports halls and gyms as well as indoor sports equipment free of charge. Various outdoor sports equipment can be also rented from us.
Sports facilities in PiiSpa
Our ice rink is open to teams, groups and individuals all year round.

26 x 56 m rink
small stand (on the second floor), heated referee box with WiFi
heated commentator's booth and player observation box
screening technology with a fantastic sound reinforcement system and video- and scoreboard
altogether seven locker rooms with showers
Blademill skating mat
Shoot Out hockey shooting simulator
Curling

The swimming hall with its multifunctional pools offers different possibilities such as swimming, diving, scuba diving, swimming training, water gymnastics, water adventure and rehabilitation.

Spa-like modern swimming hall, steel pools
Four-lane 25-metre fitness swimming pool, depth 120-400 cm
Diving pool, depth 400 cm: 3-metre diving stand, springboard
7×12 m multifunction pool, depth 95-120 cm, counter-current device, whirlpool bath bench, and two massaging jets
5 x 8 m teaching pool, depth 80 cm – swimming practice and water exercise especially for children
Water-running belts and floating auxiliaries
Women's sauna and men's sauna
Two changing rooms for groups and a women's and a men's changing rooms

Piispala's bowling alley is located in the basement of PiiSpa Water and Ice Sports Centre. Besides the main entrance, the bowling alley can be also accessed without barriers from the basement entrance.

4 lanes
Glow bowling
Possibility to use auxiliary tubes
Bowling shoes for children and adults

PiiSpa gym is on the second floor of the building, just the left side after the stairs.

Gym workout equipment, dumbbells, barbells
Bosu balls, kettlebelss, pilates rollers
Spinning bikes
SkiErgo device for skiing training
Varied fitness workouts, physical fitness tests, gym exercises and dancing lessons
Sports facilities in Activity Building
The multifunctional sports hall is located on the ground floor of Activity Building and can be accessed either by stairs or by lift. There is an indoor climbing area connected with the sports hall, including a 3m high climbing wall and a 6m high one with upper rope securing device.

Basketball court – internationally accepted standard dimensions
Sports floor surface – Pulastic 2000
Basketball, volleyball, floor ball, badminton
Floor mats available for an area of 224m2
Dressing rooms and showers for men and women
Efficient lighting

The upper sports hall is located upstairs of Activity Building and can be accessed by stairs.

Low ceiling sports hall on the upper floor of Activity Building
Stunt track facilities and equipment, mattresses
Stunt tracks, body building and muscle exercises, archery and eco-shooting

Come to arrange the best birthday party for your child on the stunt track of our upper sports hall!

The gym is based on the ground floor of Activity Building and can be accessed by stairs or by lift.

Dumbbells with free weights, barbells, cable stations
Especially for weight training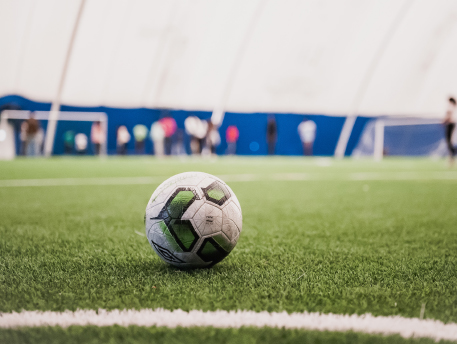 Football hall
The artificial turf field of Piispala's football hall is roofed with DUOL air-supported dome that allows year-round training. The hall offers excellent conditions to play not only football but also other sports like Finnish baseball, rugby football, lacrosse and field athletics.
The hall's measurements are 62 m x 90 m and its height is 18 m.
Long-fiber artificial turf
Natural bounce on the field's surface – the bounce of the field is integrated into the turf
Fiber thread treated with lubricant and crumb rubber provide a safe base
Normal football shoes can be used on the field.
Outdoor sports areas in Piispala
Piispalankangas Recreation Area serves groups as well as independent individuals free of charge. For the use of first-snow skiing track, we charge a daily or seasonal fee.

Lighted jogging path / ski track about 5km
Fixed orienteering checkpoints
Geocaches
Frisbee golf course
Forest adventure points
Snow sports centre including the sled hill and the training slope open for groups on reservation

Frisbees and forest adventure maps can be borrowed from our Reception. We also have traditional style skis and snow shoes available for rent.

The beach area on the shore of Lake Kivijärvi offers things to do and relax in the summer. Customers accommodating at us can use boats and canoes in the beach area for free. SUP boards are also available for rent for anyone interested in stand-up paddling.

Beach with campfire sites
Diving towers 3m and 5m high
Canoes, rowing boats, Viking boat, SUP boards
Outdoor game and parkour field
Stunt and lower-rope course
Maintenance building with toilets ( in use in summer)
Beach kiosk in summer
Beach volleyball court

Piispala's Top 5 outdoor activities, download the tip list for independent outdoor activities.

Piispala is the place for relaxing, different kinds of exercises and adventures.

Our outdoor climbing tower is used for wall climbing, ice climbing and descending depending on the seasons. The tower is located in the terrain between PiiSpa and the football hall.

13 metres high with top rope securing
Two walls of the tower are for wall climbing (one with the negative sloping) and two for ice climbing (also one with the negative sloping)
Both climbing and descending activities always demand the guidance of specially trained instructors.