Tracing a better life
We are a holistic wellbeing centre.
Piispantupa dining hall, bakery and café
Our restaurant services are flexible based on the needs of customers. Daily meals from breakfast to dinner are served in Piispantupa dining hall and, if necessary, meals could be delivered to other places in Piispala as expected by customers. We also offer festival food services and ready-made menu service is available, for example, in the Fisherman's Cottage with a great atmosphere. As an important part of Piispala's catering services, our own bakery makes most of the breads we provide and the various pastries with coffee for conferences. We mainly serve home-cooked and traditional food with rich vegetables by using local and domestic food products whenever possible.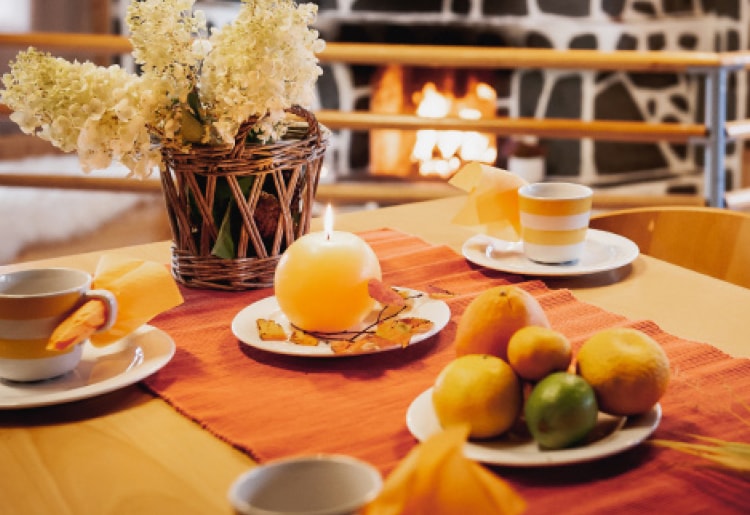 Piispala's catering services can be found from Piispantupa dining hall, PiiSpa café and Bakery. Piispantupa dining hall can serve about 150 people at a time and the food is served from the buffet line. With its old log walls and fireplaces, Piispantupa dining hall can be arranged to be atmospheric whenever needed. Special diets informed in advance are almost always possible and vegetarian options are always available. During its opening hours, you can find from PiiSpa café small snacks and other better choices to enjoy with fresh coffee.
One cornerstone supporting the good life in Piispala is healthy, tasty and regular meals. With joy and pride, we supply nutritious food which keeps up the wellbeing of our customers and gives good energy for them every day.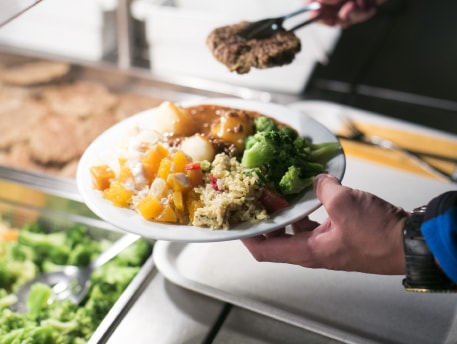 Appetizing meals from Piispantupa
Piispantupa dining hall is the oldest building in the Piispala area, as it once served as a primary school for children in the village. Today, this atmospheric log-walled building serves as a dining hall for our customers daily. We offer breakfast, lunch, daytime snack, dinner and evening snack in Piispantupa dining hall. However, at the request of the group, any of these meals can be delivered to some other place – even to the rest place in nature during a forest trip.
Domesticity and food origins as advantages
The bread served at Piispantupa is baked in our own bakery. Hence, bread rolls at our breakfast are certainly fresh and soft, just like breads in other meals. Whenever possible, we use local food and domestic products as raw materials. The food we serve is home-cooked and traditional with rich vegetables. We always take special diets into consideration, as long as we are informed in advance. The food we offer is always lactose-free.
Special menu for celebrations
According to the order, we can arrange for the group an atmospheric meal as a private event in our Fisherman's Cottage, the lakeside lounge or any other space requested by the customer. In the case of private events, it is possible for customers to bring their own alcoholic beverages – Piispala does not have the alcohol license. You can also ask the possibility to serve the special menu foods in Piispantupa dining hall – depending on our booking situation, we are possible to organize a more festive private event in our dining hall for you.
Thinking about food waste
For Piispala, it is important to minimize the waste from our meals. Our kitchen plans menus and operations in a way that minimizes the waste. With the biggest waste at the moment coming from customers' plates, we do encourage our customers to consider how much they are able to eat when picking up food. Our food waste is tracked by a program named Waste Master (Hävikkimestari), which helps us follow the direction of our operations.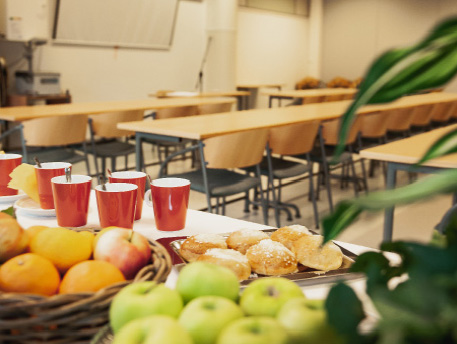 Fresh breads are served daily from Piispala's bakery
Almost all of Piispala's breads, i.e. bread rolls, yeast bread and rye bread, are baked in Piispala's own bakery. PiiSpa, where our bakery is located, is always full of the smell of fresh bread in the morning. The baker working at our bakery is an early bird, since the working day may start already at four in the morning so that all our customers can enjoy the fresh bread rolls at breakfast.
Made from domestic raw materials
Our bakery mainly uses domestic raw materials, and the rye flour and whole-wheat flour are sourced locally from our nearby partners. You can enjoy the products made from these raw materials daily in our meals in Piispantupa.
Bakery's catering services and cakes for conferences
The pastries and cakes we offer for conferences in Piispala are all made in our bakery, with the exception of gluten-free products. Our pastries are homemade style with traditional taste. Our bakery serves customers in a flexible way, and we are happy to hear about our customers' wishes.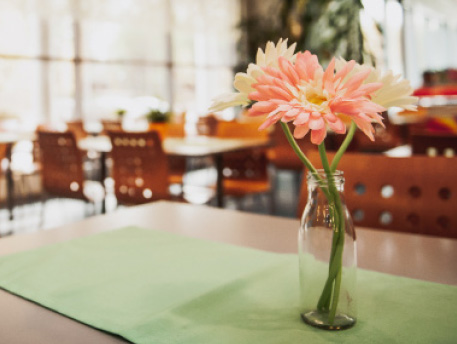 PiiSpa café
PiiSpa café serves daytime snacks or small sweets as wished by our customers. The café offers pastries as well as stuffed rolls and, depending on the day, homemade pizza pieces or sweet pies, which are all kept in the vitrine. We always have fresh coffee, sweets and small snacks for sale.