Good morning everyone and welcome back to my blog!
The snow is slowly melting, the sun is getting warmer, and its light is shining onus until late afternoon. Even the little birds are singing outside their nests ready to flutter back from branch to branch.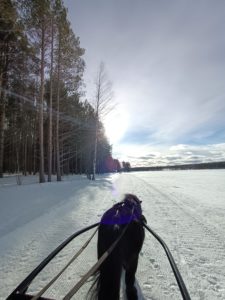 The other night, after spending a beautiful evening with friends, I was lucky enough to see the most beautiful Aurora Borealis that my eyes have ever seen! You know when the sun's rays reflect off the glass and find you surprised when they reach you for a few seconds? That's how she dances; yesterday she was long and full of a greenish color, she moved like a snake, and it was as if she was composed of millions of vertical plates that pulsate like the heart. The Aurora breathes and wanders like a young girl in the spring woods: carefree, joyful and alive.
Dear readers, I should warn you anyway that this will be my last post about ESC in Finland. Six months have now passed, and my project will end exactly on March 23, so here I am writing the famous last words. You might be wondering how I feel and in short, melancholy is a must! This has been the best experience of the last few years and I hope there will be at least 100 more!
Volunteering has changed me deeply; it has made me discover and fully realize what I'm really made of. I can say that I am proud of the young woman I am and I look forward to continuing to grow and make my life a dream, because people, dreams can come true.
What has Piispala left me with? Definitely much hope for the future and in my abilities. I learned to love both my strengths and weaknesses and to improve myself day by day with a lot of love. In this place I made friends with the real me and at the same time I fought with it! Beatrice is a mainly curious, joyful and good girl, with a desire to do, and she's not afraid to work hard or to face her fears. However, she has had to contend with loneliness and with people who are completely opposite in character from her own. In short, I was able to develop the patience and calmness that I lacked in the past, as I have always defined myself as a fairly instinctive and lively person.
How grateful I am for putting myself out there! It's really important to understand how to deal with others and to know when it's better not to let the hurt that they might do to you get inside your heart. On the other hand, everything has to be weighed in the right way and I have become strong in protecting my thoughts and my sensitivity. Come to think of it, I would give the "old" me a sweet caress and telling her how great she is!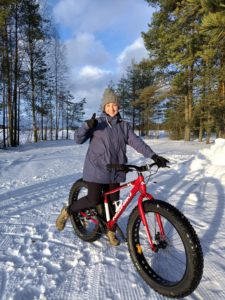 Dear reader, it's true, I'm "laying myself bare" to you and I hope it's not a problem; I just want to speak the honest truth and be transparent as water, hoping that these words may be of help and encouragement to another youngster. My advice to young people is to accept challenges head on and not be afraid to get hurt or face your inner obstacles, because when we come out of our shells and shine, that's when the real adventure begins. We are all so wonderful and we have infinite qualities to bring to fruition if only we are honest with ourselves; we should just be brave enough to become aware of our strengths and weaknesses, preserving the resilience needed to get one day to say: "Here I am, I'm really happy!"
Will it rain along the way? Yes; Will it snow? Probably; Will it be sunny? Certainly. It's not all sunshine and roses, and I thank the heavens for the bad weather I've taken, because without it I wouldn't be the me I am today.
During these months I have also realised what true affection is and how important it is to take care of friends and loved ones who are like seedlings that need water daily. In the past I didn't give my best in social relationships because I was too caught up in my own insecurities, but now I understand the need to "water" others with love and attention. A smile, a hug, a caress or a simple good morning can make a person's day better, so why not give yourself when you can?
In conclusion, I'd like to let you know that I won't be going back home to my Viterbo; I've decided to stay and grow up in this country in the hope of fulfilling my desires. Who knows where life will take me? I'll find out only by living.
I love you all,
Beatrice