Experience like a local child
On the hill by Lake Kivijärvi, some children are digging the soft soil shovel by shovel, while the others are checking carefully with a small stick at the soil that has been dug out and the other hand holding a small bucket. They are looking for earthworms as lures for fishing with great interest! Boys are bolder, whereas girls are generally scared at the beginning, but all of their eyes light up immediately when an earthworm comes into sight, with the fear of this soft and slippery creature totally forgotten. Together they cautiously put the earthworm into the bucket, and some are even brave enough to place the earthworm in the palm, observing its movement curiously.
In the lush green pine forest, a group of children are following an instructor on the path covered with pine needles. With the patient enlightenment and vivid explanation from the instructor, they seem to have returned to the ancient ice age, exploring how the crust moves. On the way, the children personally explore the unknown knowledge and learn the survival skills with the help of games and tasks, and the most exciting thing for them is probably to find blueberries. They learn fast how to distinguish blueberries from other wildflowers and weeds, pick them up one by one by hand, and put them into the mouth. Most of the time they are just stuck to the sweet and juicy blueberries, reluctant to move on.
In the Animal Home Pihka, there are children closely observing, feeding or petting small animals. Some of them are tempting the cute goats to jump to the high wooden stand by using the fresh leaves of birch branches; some are sitting in the carriage driven by the gentle pony, learning how to pull the reins when the pony is walking or even running in the forest; some are bravely reaching out their hands to feed the silkie chickens with breadcrumbs in their palms; while the others are holding the shy guinea pigs in their arms and petting them gently. How joyful and emotional the children are in front of these little cheerful lives with different characteristics!
The sounds of curling stones bumping together and the hurrah of children can be heard from the indoor ice rink – the children have already learned the skills and rules of this traditional and elegant ice sport after a short practice and are playing a real game in two teams; in winter, children are taking an adventure in the snowy forest with snowshoes on their feet, enjoying the snow fun, sometimes just closing their eyes to relax themselves and feel the silent world; walking not far to the other side of the forest, they are excited to find a snow hill, where they then enjoy the sledding again and again as if they were flying.
The above are scenes that can be often seen in the camp schools of Youth Centre Piispala. Finnish education system attaches great importance to the supporting role of camp activities for schools to promote students' learning enthusiasm and reach the curriculum goals. Therefore Finnish children take part in different kinds of camps from their early age. Piispala is the most popular youth camp center in Finland, organizing camps for about 300 school classes as well as many other themed youth camps and international camps every year. It is endowed with a unique natural environment thanks to the location in the heart of Finland, well equipped with functional facilities, and staffed with professional and enthusiastic youth instructor team and other service teams, which together can help every child create the most memorable camp experience. Among these children, there are also many young students who come from overseas to experience the traditional Finnish camp life. They are immersed in the authentic camp environment, experiencing the colorful activities tailor-made for them, unlocking various new knowledge and skills, and enjoying the vibrant camp fun just like local children.
Zhao Jing, Global Education Ambassador at Tampere University of Applied Sciences, remembers clearly, "In Piispala, outdoor activities and indoor courses are implemented alternately, and they are also interdisciplinary. I cannot forget how excited our children from the other side of the earth were when they walked into the wide forest under the lead of Piispala instructors, who guided them to observe the typical plants and animals of the Finnish nature and shared with them what the area looked like during the Ice Age, which greatly raised the children's environmental consciousness. When the children were designing and making their own soapstone amulet, it turned out that the beautiful and characteristic artwork has the same raw material as the fireplace that is common in Finnish life. There was also a thrilling and loving Sino-Finnish floorball friendship match, which brought much joy and laughter to the children. Throughout the camp, the Piispala staff helped us a lot, which gave more credits to our memorable camp. Hope we'll see again soon in Piispala!"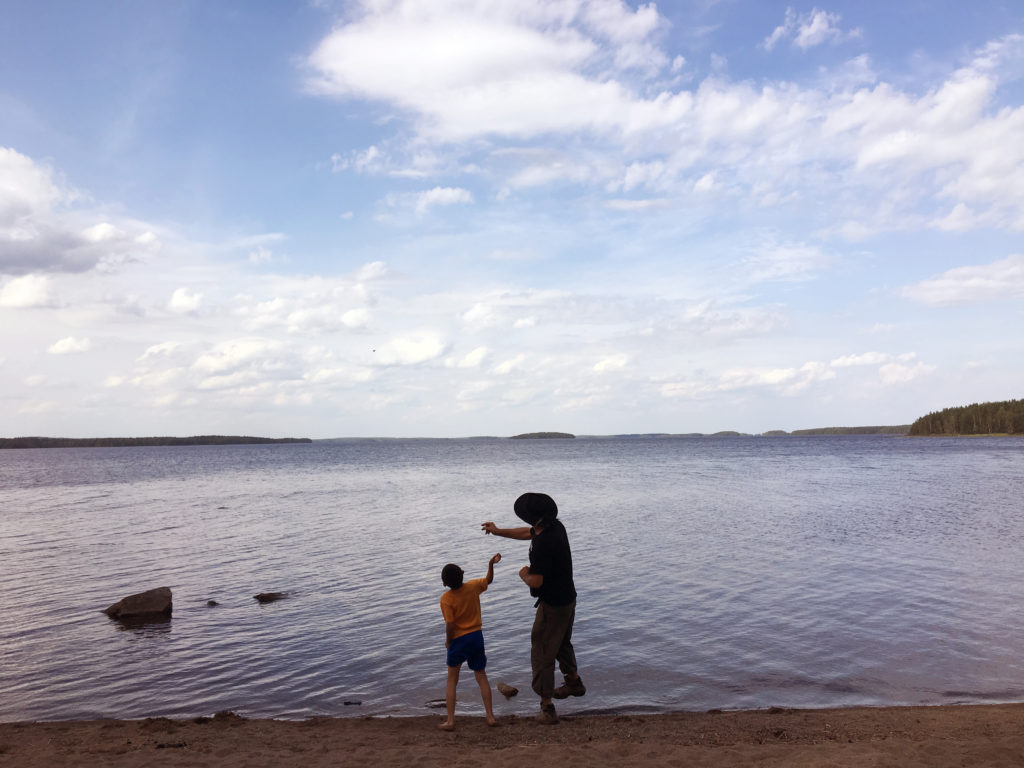 Enjoying the fun of sports
Finnish children love sports. In addition to 2-3 PE hours every week and 15 minutes of outdoor break after every lesson, they also participate in the sports hobby classes or clubs. Finnish education believes that sports can enhance children's brain vitality, positively impact children's learning results, help them build self-confidence and develop good virtues for future. In Piispala, international camp school children can experience many classic indoor and outdoor sports just like Finnish children. For example, learning to skate and playing a simple ice hockey game, calmly feeling the thrill of shooting out an arrow from the bended bow in the archery, putting on a bubble ball to play a different football game, paddling on the lake, or having a go at the cross-country skiing and the rifle shooting which are combined in the winter biathlon. These and many other interesting Finnish traditional sports can make children feel the fun of sports and experience the joy of success. The children will return home with a love for sports, just as Finnish children have, which they may treasure for a lifetime.
Learning in the nature
The learning of Finnish children happens not only in school, but also in nature very often. As nature education is highly valued in Finland, the concept of respect for nature and harmony with nature has been deeply rooted in Finnish education since childhood. In the natural environment, it is easier to identify and develop the strengths of every individual, strengthen emotional education and improve teamwork skills. In Piispala, based on the Finnish curriculum guidelines, we organize many nature and adventure activities in our natural surroundings, perfectly integrating nature and sports with education. International camp school children can go into the safe and pure nature, be with nature as one and experience the true nature education, just as local children do. For instance, fishing and Animal Home activities, mentioned at the beginning of this article, can help children build an emotional bond with nature, learn about respect and responsibility; when hiking in the forest, children can know a lot new about nature, geography, biology, history and culture, expertly telling eatable berries and mushrooms apart from those poisonous just as local children do, and even figuring out how to correctly deal with environmental issues and keep environmental sustainability; while from activities such as Geocache and Viking Boat, children can get more positive natural experience as well as better teamwork and problem solving skills.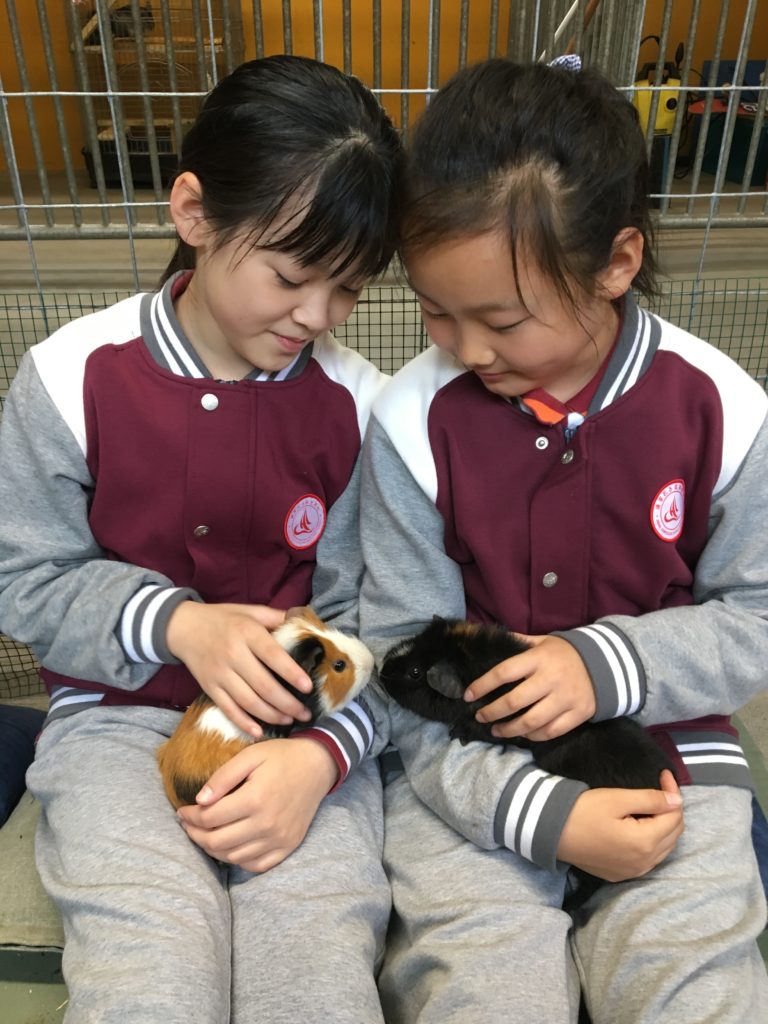 Thinking and being creative
Finnish children are good at thinking and doing creatively. In the class, teachers often merely play the role of inspiring and guiding, and leave more room for students to actively think, explore and innovate. Also handcraft and other lessons requiring handworking account for a proportion as high as one fifth in the school curriculum. Lessons such as carpentry, mentalworking, knitting and sewing make children present strong hands-on abilities and practical life skills, and everyone is a good helper for parents at home. In Piispala, we have well designed plenty of interesting handcraft programmes to inspire children to think about the themes behind, take the initiative to create and gain the feeling of success. International camp school children can, just like local children, make the design according to their own ideas and utilize real tools and materials in a safe environment to create their own personalized works. For example, during the textile printing, they can put the special camp memories into a blank T-shirt, vivid and colorful, or simple and clear, and the use of an iron could be the first time for most of them; in the needle felting, they can use multicolored wool to make their favorite animals, logos, accessories and other objects, out of which there could be some popular fancy fashion coming into being; in the soapstone amulet making, they learn how to turn a square rough soapstone into a bright and elegant necklace pendant by using a saw to cut the stone and finely polishing the stone with files and sandpapers of different specifications; while in the baking class which makes them more passionate, the children can work in teams, reading recipes, preparing ingredients, using baking tools and oven to make traditional Finnish desserts together, and in the practice they are shared with Finnish food culture as well. When children are taking charge to do, it is touching to see how concentrated they are in thinking and creating.
Experiential learning
Finnish education increasingly emphasizes experiential learning methods. Finnish children often acquire skills, knowledge and experience through various activities outside the traditional academic classroom setting. Similarly, in Piispala, we also believe that the true learning must be based on personal experience. Built on the experiential learning methods, activities are carried out by linking theories with concrete activities and relating to the knowledge learned in the past. Then by the observation and reflection on the activities, children can deepen their understanding of specific theme phenomena and achieve the goal of deep learning and long-term memory. International camp school children can, just like the locals, fully experience the activities tailor made for them, understand and accept new knowledge at their own pace, learn to solve problems with creative thinking, and improve their communication and other social skills. In the process of experiential learning, emphasis is also placed on promoting the participation of each child, increasing their self-awareness, encouraging them to excel limits and finding their own position in the team for a better teamwork.
The camp life in Piispala has driven my girl to grow up independently and aroused her own potentials. She has developed to be proactive from previous introversion and her sense of community has increased a lot. I am so touched by all these changes!" — Mother of a student from New Oriental Global Study Tour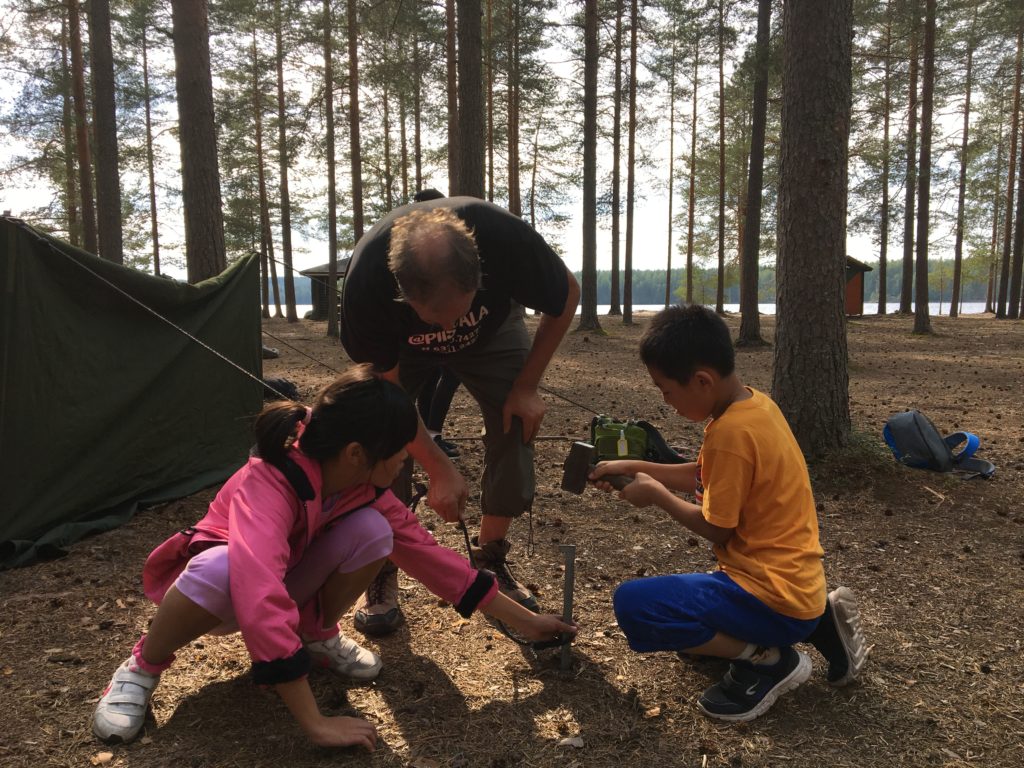 What's more, international camp school children can take advantage of our wide range of indoor and outdoor facilities to play like Finnish children in free time, no need for iPad or mobile games. For instance, they can sweat by playing ball games with friends in the indoor sports hall, release energy by jumping and tumbling in the indoor stunt hall, knock over wooden pins in the funny "Mölkky" game, and throw frisbees to the target baskets in the forest. In summer, they can play beach volleyball, dive and swim at the lakeside, while in winter they can run in the snow, make snowmen, play snowball fights, and jump into the ice hole during a sauna break to feel their blood circulation. All these are favorite plays for Finnish children. Finnish education do emphasize the importance of playing. It is believed that children can learn by playing these simple and funny games from which they get great satisfaction, and enhance their social skills because they need to have a good interaction with their peers in the games.
Every day in Piispala is so wonderful! We expressed love to our youth by canoeing in the grand lake; wool felting with a needle lighted up our infinite imagination; and living in the natural environment made our 'nature-deficit disorder' disappear!" — A student from New Oriental Global Study Tour