Hello everyone!
Welcome back to my blog! This week my colleague Aurora and I have been discussing the cultural differences between Italy and Finland, so now we want to share our thoughts.
It's now been two months since we started living in Piispala and although we've already gotten used to most of it, we're still adapting to a culture much different from ours.
It's tradition that the women of the family cook together, but men are responsible for grilling the meat.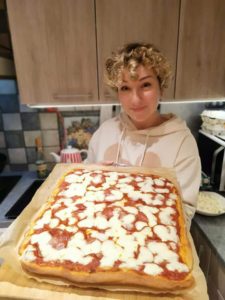 Today I want to start telling you about our first cultural shock: lunch and dinner's timetables. As you may already know, Italians are used to having lunch around 1-2pm and dinner at 8-9 pm. Therefore, finding ourselves being served a rich dish at 11 am was like eating a hearty Sunday breakfast. Personally, it took two full weeks for this to feel natural, but now Aurora and I start craving food even earlier. We recently had a good laugh about it!
Breakfast is also a lot different from ours: Italian breakfast usually consists of coffee and/or milk with cookies to have a good start of the day. Our lunch instead has for the main dish an abundant plate of pasta and maybe a side dish of fresh vegetables and fruit; on the other hand, dinner is usually lighter, even though more often than not we like to indulge in a good ol' pizza (must be prepared with mozzarella, not cheese!).
Obviously, we can't forget about a nice bottle of wine and the whole family around the table, since having a meal together is one of the most famous and important Italian traditions. Every family member has the opportunity to share their day, their ideas and problems. Contrary to modern days Finnish norms, we still think that dining together daily (especially during dinners and Sundays) is very important, and like the Finnish people we reunite with the extended family during holidays or special occasions.
Another culinary shock was the frequency with which you eat potatoes and salmon. We really love them too but it's really unusual to eat them every single day. The Mediterranean diet is much different than the Scandinavian one. Ours is much more rich and diverse and we're used to mixing cereals, meat, fish, vegetables, cheese and fruit. That's not to say we don't love your cuisine, in fact we always get seconds when we get the chance!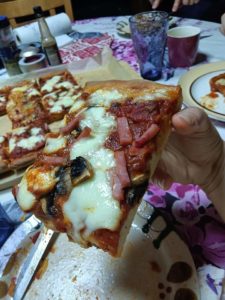 Another shock comes from the quantity and the usage of butter and sauces: we prefer using olive oil, usually home-made for center-southern families. Bruschette is a really common dish, made of toasted bread, tomatoes and olive oil. Your bread is good for sandwiches but much different than ours, which we get fresh from the bakery (or make it ourselves).
The best "restaurant" is our grandma's cooking, especially for Sunday's meals. They always make the best dishes that MUST be finished 😉 I'm talking about fettuccine, lasagne, chicken and baked potatoes, breaded cutlet, tomatoes with rice and much more! It's tradition that the women of the family cook together, but men are responsible for grilling the meat.
In Italy you can find many varieties of restaurants but the most common is certainly the "trattoria", where you can eat the typical dishes of our traditions. Obviously the menu varies from north to south: each region has its own culinary culture and serves what the land has to offer, both on a traditional and land level.
All Italians appreciate their good regional food, but it's well known that the best dishes are found in the center and southern regions. It's easy to think about the norcineria of Marche, Umbria, Tuscany e Latium with cold cuts, delicious meat, mushrooms and truffles, or mozzarella, tomatoes, pizza, sweets from Campania, arancine, cannoli, granita and the Sicilian sfinci or Sardinian cheese.
Like all good things, my blog also comes to an end for today. I hope you appreciated my work and maybe even found it useful. I will update again soon with a new topic that is also very interesting to me. It's been a pleasure sharing this with you. Until next time!
P.S. Your Pullataikina is the best thing we've ever tried!!!